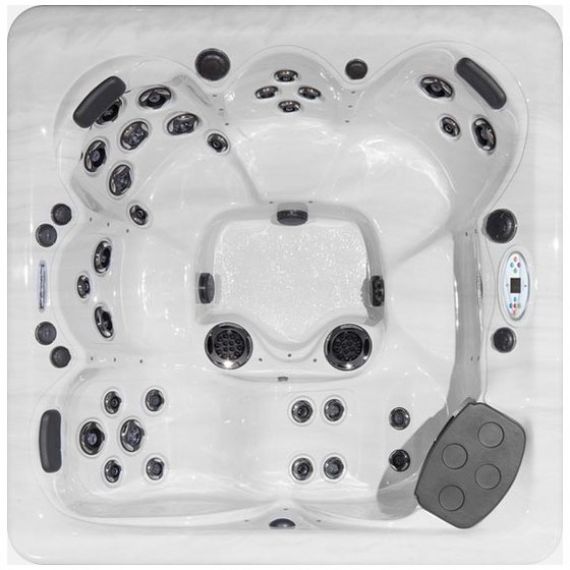 Zapytaj o cenę
Cechy:
Orion Light System: Illuminates the cascade waterfall and topside controls.
Kaskada
Lounge
Graphite/Stainless steel jets
EcoPur Filter
Terapia BioMagnetic
Low Maintenance
Energooszczędność
Specifikacja dla TS 7.2
Miejsca Siedzące 5-6
Wymiary 84″x84″x38″
(213 cm x 213 cm x 97 cm)
Galony 305
Waga (Suchy/Pełny) 755 lbs. / 4,410 lbs.
Pompy 2
Dysze 36
Master Blaster 2
Water Features 2
Filtracja EcoPur®
Oświetlenie LED Orion Light System
System Redukcji Szumów Standard
Cushioned Head Rests 3
Opcje
Fusion Sound System: Every Twilight Series spa may be equipped with an optional sound system to provide rich, beautiful sound.
WI-FI Module: Remotely control the operations of your spa via an optional integrated Wi-Fi module that works with the Balboa Water Group Wi-Fi Spa Control App.
Afterglow Jet Package: Illuminates the larger crystal-like jets in your spa.
QuietFlo Water Care System: Our advanced energy-efficient circulation pump enhances the purity of the water.
Mast3rPur™ Water Management System: A synergistic blend of three proven natural water sanitizers that when combined makes them dramatically more effective through a chemical reaction known as Advanced Oxidation Process. This results in clean, clear, fresh smelling, and silkier water. The Mast3rPur™ option is only available on spas equipped with the QuietFlo Water Care System.
Vac Formed ABS Pan Bottom: finishes the frame with a vac formed, high density ABS base that helps keep the heat in and unwanted pests out.